Club members met on Saturday 20th November 2021 for the annual Open Competition. This competition pits blue water against green water, macro against wide angle. The evening was hosted at Keith & Jo's house in Cranleigh and was attended by 20 club members.
After the usual socialising and pasta themed meal, 32 images from 11 members were projected. The winners had been pre-judged by Nur Tucker, avid underwater photographer and Competition Secretary for BSOUP. Nur attended the meeting with husband Paul and provided detailed feedback on her choice of images.
Our thanks go to:
Nur for judging the competition, and to Nur & Paul for joining us at the meeting
Keith & Jo for hosting the evening and providing the meal
Roger & Wendy, Carole & Tim, Martyn & Sue and Ann & Pat for providing desserts
Keith for organising and running the competition
All entrants who submitted images to the competition
The winning images are as follows with judges comments in italics:
1st Place – Martyn Guess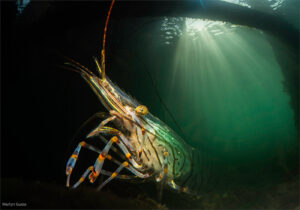 I love the creativity here. I think this is an image overlay of two different lenses. Not only it is a creative idea but also a good execution. Needs a little crop from top right corner.
2nd Place – Martyn Guess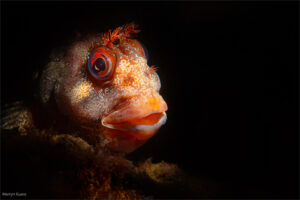 What a cutie, what a character. Amazing shot and taken very well. Looks like it is snooted. I like the way the author achieved separation here to draw the attention to the intricate details of this beautiful animal. If there was more space on its top or if it was a portrait shot, it could have done better.
3rd Place – Mike Davidge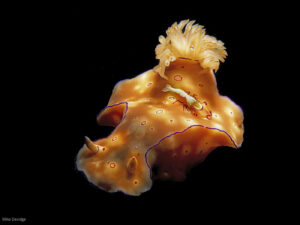 Clearly a master photographer was in action here. Beautifully executed shot of a symbiotic relationship between the Commensal Emperor shrimp and Ceratasoma Nudibranch.
Highly Commended – Mike Davidge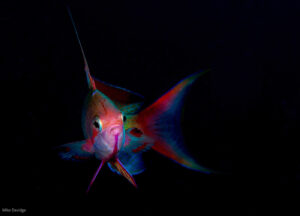 I love this shot. Beautiful peak of the action or turning point of the anthia. Eyes are sharp and looking into the photographer. Beautiful colours are in sharp contrast to the black background. A little bit less DOF and more exposure would have been even better
Highly Commended – Martha Tressler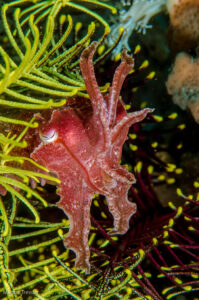 I like this cuttlefish portrait. The colours look very striking, but would have benefitted from a tighter crop. The top right corner does not do much for me. Redundant space, little tweaks like this can move this shot up in ranking.
Highly Commended – Jo Horrocks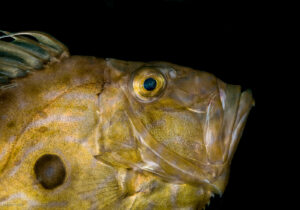 John Dory, a very nice image, good lighting and great detail. Would have been better to change the orientation a bit and also show the beauty of the dorsal and pectoral fins of this beautiful fish.
Commended – Martyn Guess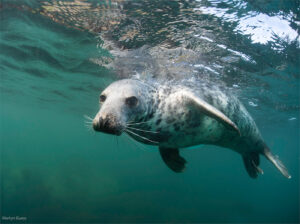 This was one of my favourites and it could have done better if it was not for the photoshop brush strokes being so visible on the final layer. Very good use of natural light. Great proximity and eye contact.
Commended – Martha Tressler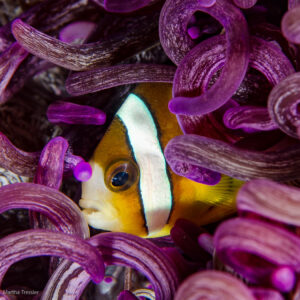 Lovely image. Anemones are creating a great negative space here. I love the way yellow and purple creating contasting colours. Lighting is good and good use of rule of thirds and diagonals.
Commended – Keith Lyall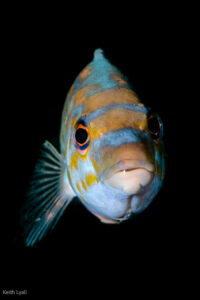 The photographer is on to a great image here. A very nice portrait of a cuckoo wrasse. Great proximity, good eye contact, even the mouth is open a little as if wanting to communicate with the photographer. Good solid black bacground. But this kind of image needs a great scale of symmetry. I can see one side of the fins, and also the right side of its face is in the dark. Shot looks lopsided.
Commended – Keith Lyall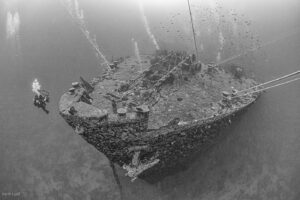 I like this shot. Good angle, good use of diagonals. Looks like it has been taken with magic filters? It could have done better in this competition if the author increased the contrast a bit. B&W photos are all about drama and the way to achieve that is to reduce the middle grey tones and increase the end values of black and white as in the name