14 club members attended the 2022 Photosub Club BBQ hosted by Martha & Anthony at their home in Southampton. Given the recent heatwave, being nearer the coast meant a drop in temperature to a more pleasant level. Members socialised in the garden before tucking into a lovely BBQ prepared by Martha and Anthony with a dessert of what is now become tradition of banofee pie provided by Keith & Jo.
In addition to the BBQ and general socialising, the evening also included the results of the 2022 Photosub Splash-in. Images are eligible any time in June or July and can be taken anywhere in the UK or Ireland. This allows for more members to participate and get around the usual issue of the British weather preventing diving. There were 21 images submitted by 8 members.
In keeping with tradition we were joined by a non diving judge, Sue Sibley. Sue lives in the New Forest and is a member of Southampton Camera Club including a spell as their President, as well as being a member of the New Forest Camera Club and has been the Chairman of Southampton International Exhibition. Sue is an active photographer with ARPS, EFIAP/bronze, DPAGB and BPE3* distinctions. Sue likes to visit the many clubs within the Southern Counties Photographic Federation judging their print and projected competitions and giving talks on her work and running Photoshop tutorial evenings (www.suesibleyphotography.com).
Sue judged the images in advance and provided her picks prior to the meeting so that a final results presentation could be prepared.
Following a welcome from Chairperson Joss Woolf, the images were projected. The projection was followed by results announced in reverse order, including a number of Highly Commended and Commended images.
So to the results:
1st place Spider Crab by Keith Lyall
2nd place Edible Crab in pipe and diver by Martyn Guess
3rd place Spider Crab by Pash Baker
Congratulations to the winners and thanks all that participated.
Thanks go to:
Martha and Anthony for hosting the event.
Sue Sibley for judging the competition.
All participants in the competition (Martyn, Daniel, Maria, Keith, Jo, Gill, Rob, Pash).
Keith and Jo for providing the banofee pie.
Keith for organising and running the competition.
Photosub committee members for their various roles in organising the evening
The winning images are as follows, with Sue's comments:
1st Place – Keith Lyall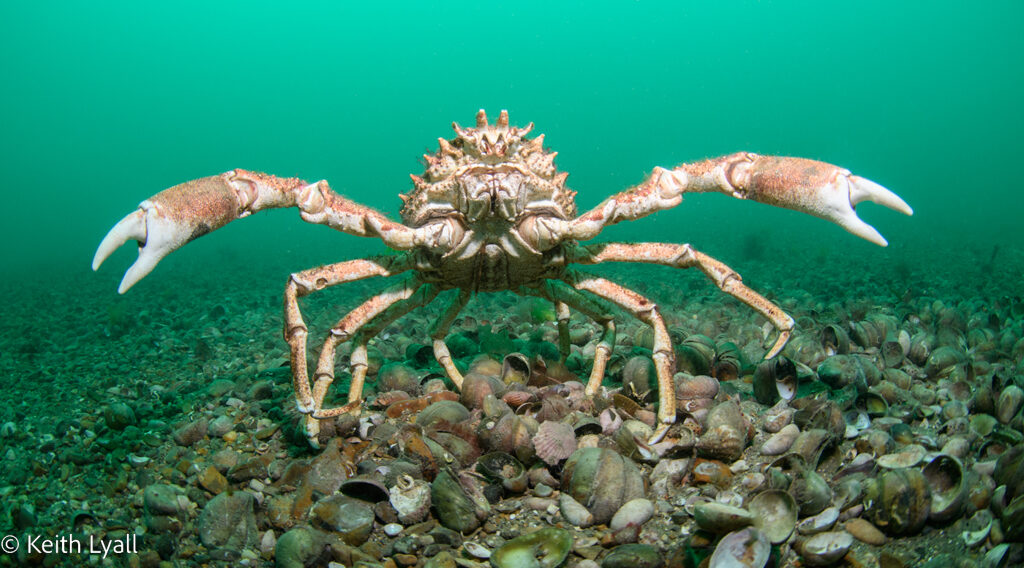 Quite an imposing fellow! Coming straight at you as if to attack. With all the shells on the sea bed it looks like he is a formidable foe. Great detail, sharp throughout and showing behaviour.
2nd Place – Martyn Guess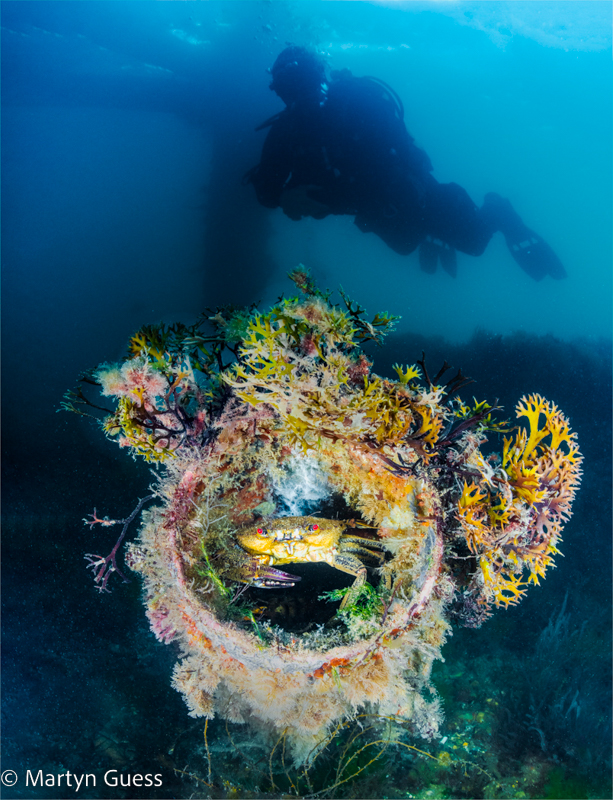 Great use of lighting to make the main subject stand out from the background in your picture but also including maybe the reason the crab is hiding in this old pipe?
3rd Place – Pash Baker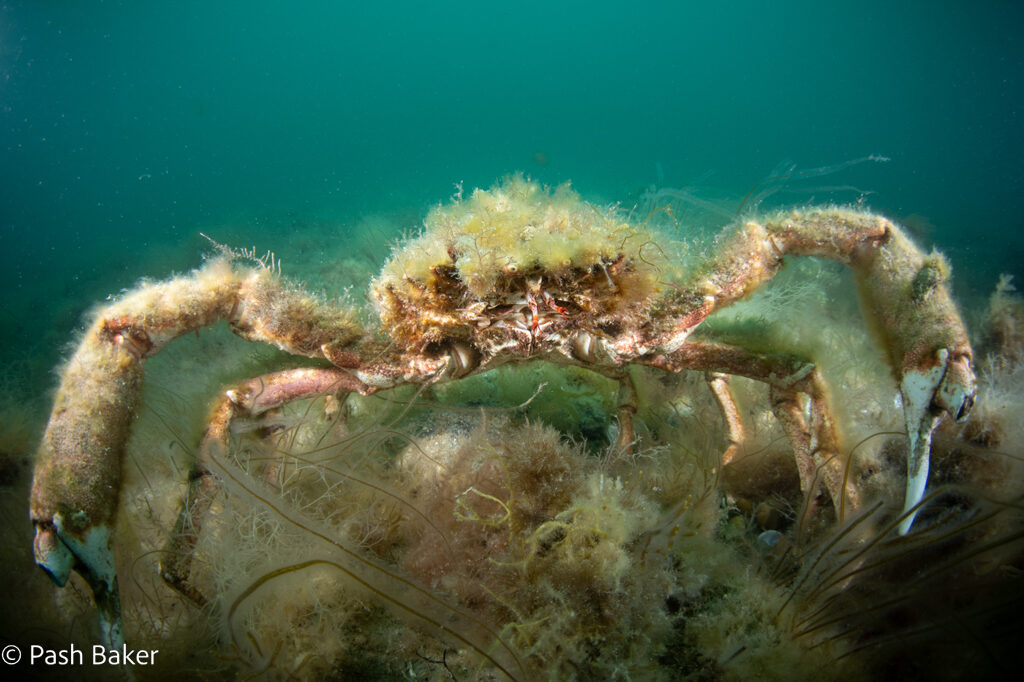 Another rather imposing crab but this time he's in his woolly clothing. He must be a real bruiser as he's lost parts of his claws. Lovely control of lighting producing great details and colours.
Highly Commended
Pash Baker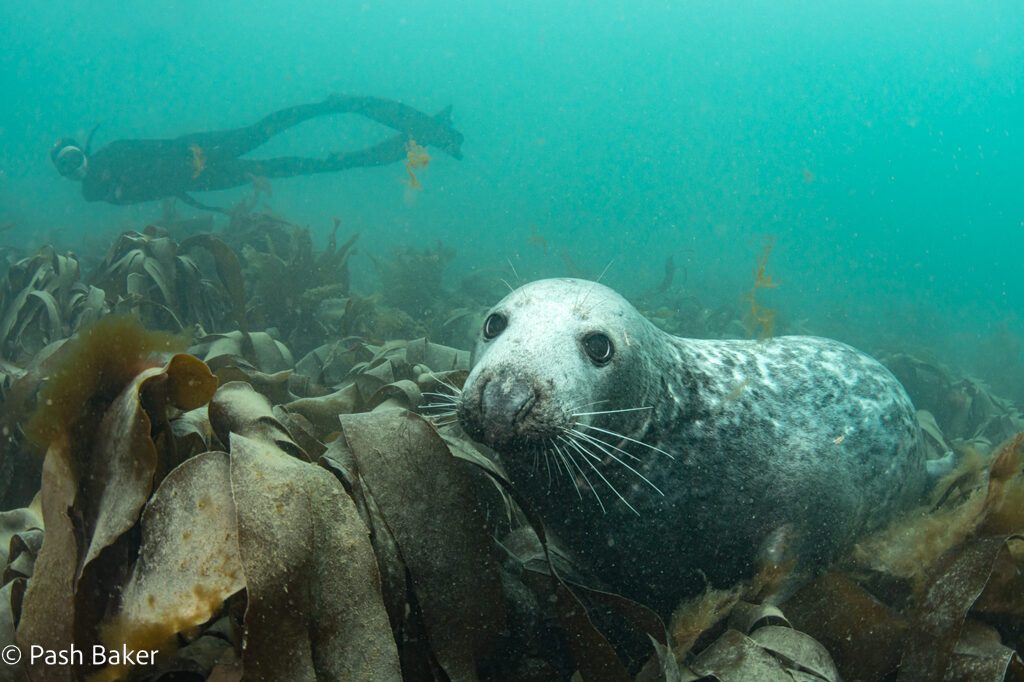 I love the way the seal is looking at you giving us some interaction being missed by the diver in the background.
Keith Lyall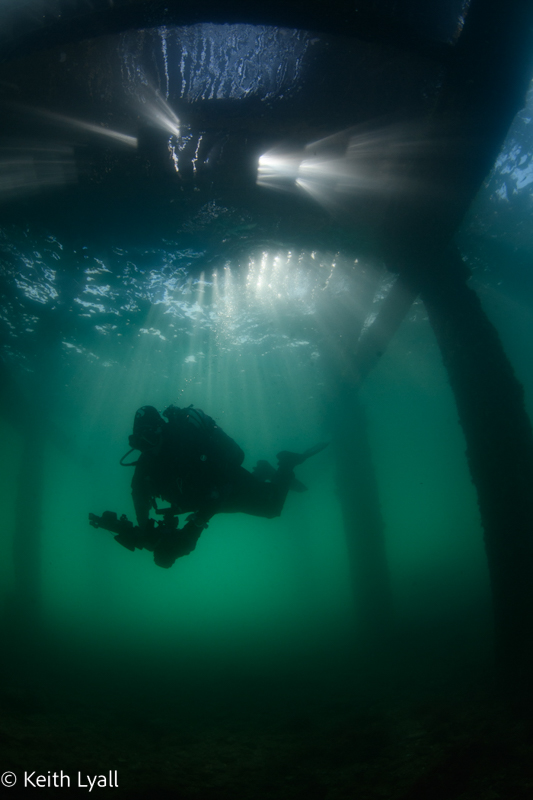 I love the narrative that can be read in this image. We have the diver that has come down from this structure, coming from a lovely sunny day into the cold depths of the sea. They almost look trapped within the cage like structure.
Gill Marsh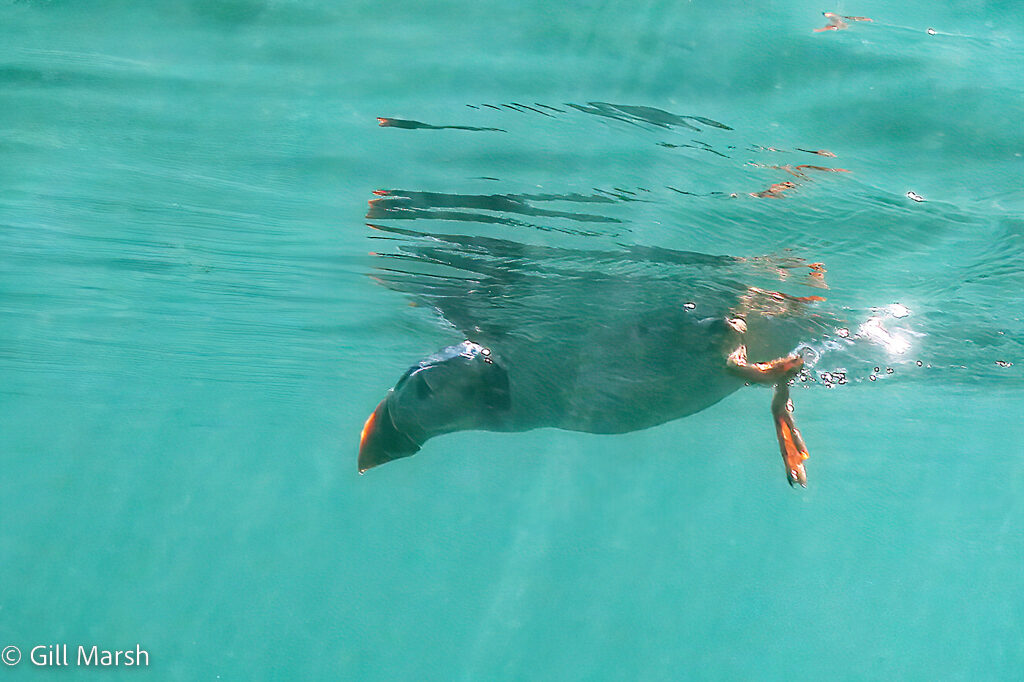 This time we have a bit more of the Puffin from below. I love this but the very strong bit of light behind him pulls my attention away from him.
Commended
Gill Marsh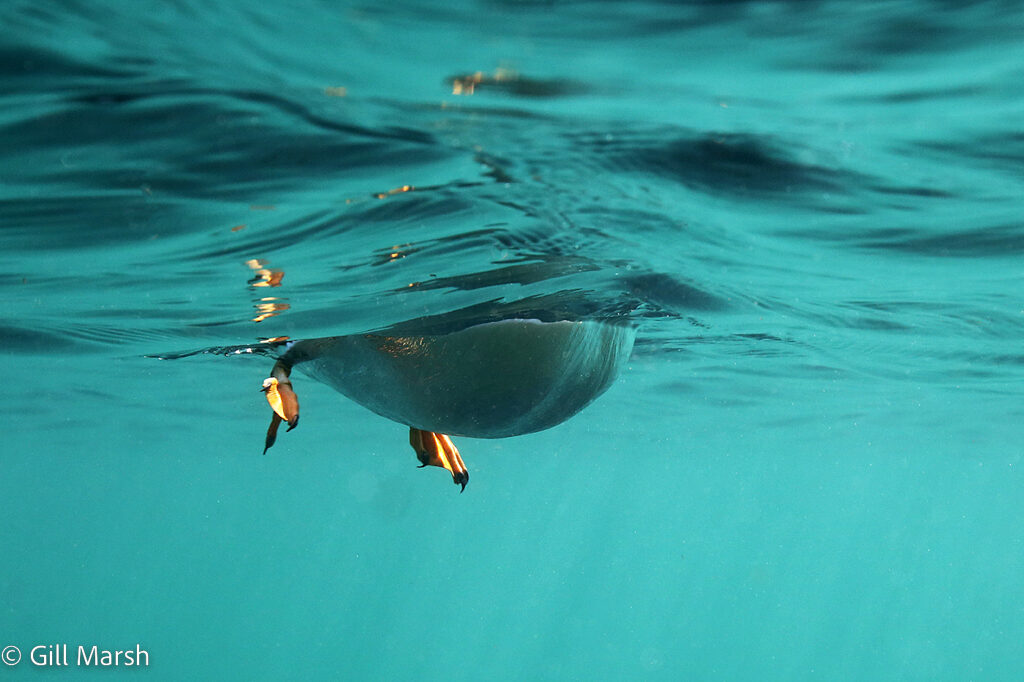 It took me a second to realise what I looking at. I love this photographers sense of humour. A very different view point. I guess it's a Puffin. Great colour palette, the lightwest points being the only other colour in the image.
Martyn Guess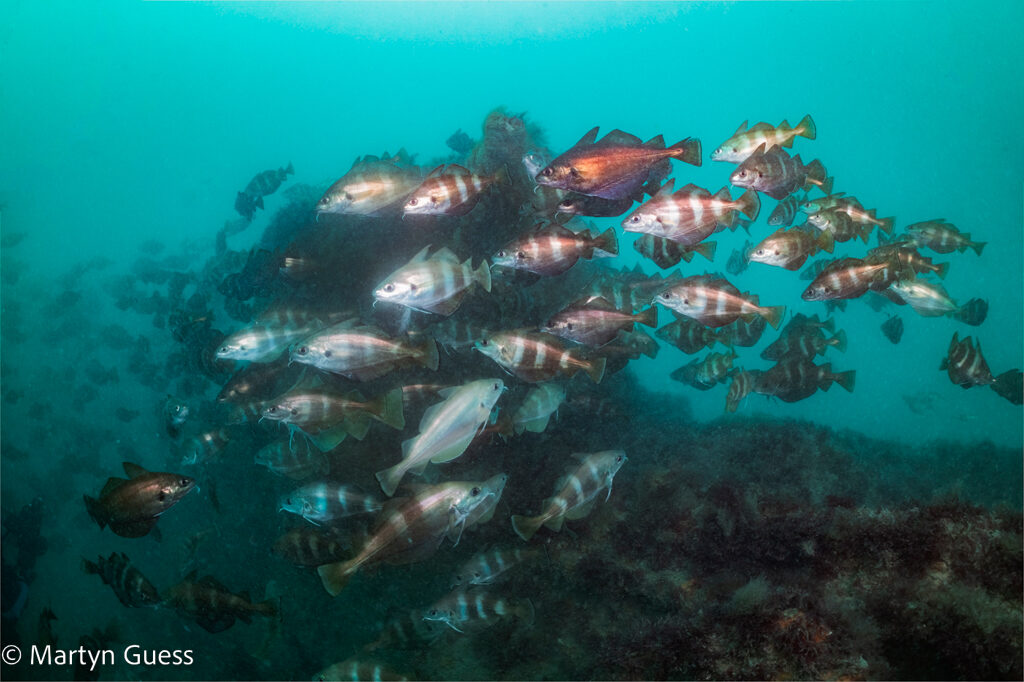 This is the type of shot you can spend a lot of time looking at, great detail, colours and interesting fish.
Jo Horrocks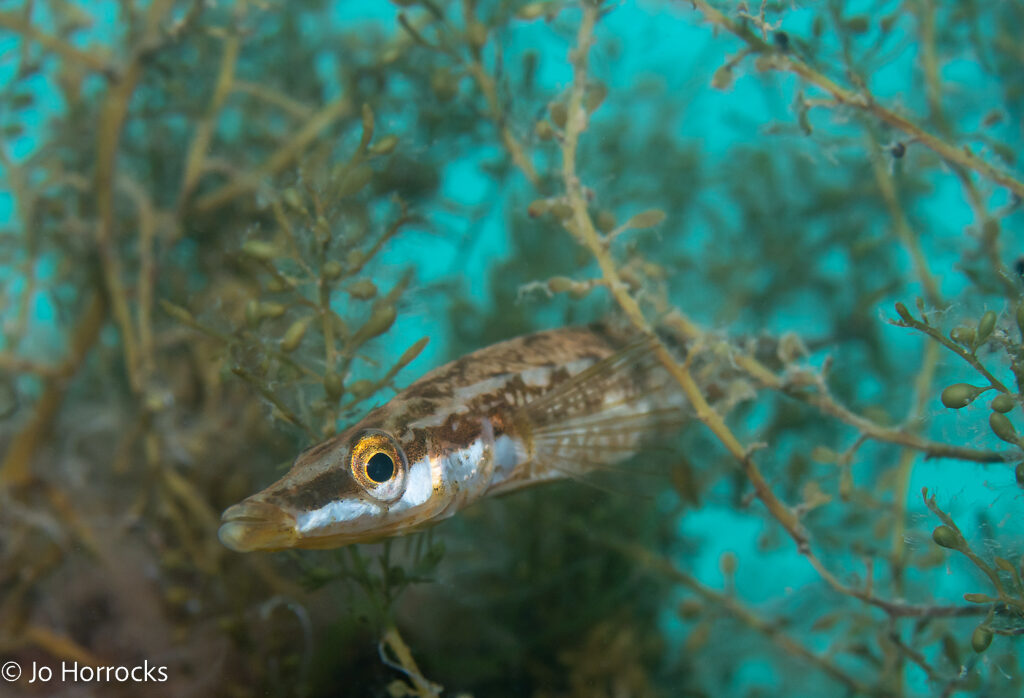 Lovely colours again in this shot, yellows and blues together are very simpathic to each other. Even though the picture is quite busy with all the weeds that yellow eye stands out, which is also well placed on the third.