Club members met on Saturday 18th November for the annual Open Digital Competition. The evening was hosted at Joss's home in London and was attended by 25 members. After the usual socialising and excellent food (thanks to Joss's usual culinary high standard), 39 images were projected. The winners had been pre-judged by Nick More. Nick has had a number of successes in recent underwater photographic competitions and produces high impact images. Unfortunately Nick could not attend but provided a set of notes which were read out at the meeting. Our thanks go to Nick for taking time to judge the competition.
Thank-you very much for asking me to judge the Photosub 'Open Digital Images' Competition 2017. I took the task seriously and judged according to my tastes in UW imaging. I was looking for technical excellence, of course, along with artistic merit, composition and overall 'feel' and impact of the entries. I revisited the images on 3 occasions, on 3 different days & I viewed the images on a large, high quality screen. I then made a shortlist and deliberated for long periods before deciding on the 3 placings, one highly commended,  as well as three commended images (in no particular order!) I wish I could have picked joint winners as it turned out I was torn between a wide-angle shot and a macro shot. Tough choice!

.
The results were as follows:
1st Place: Shoaling striped catfish by Pash Baker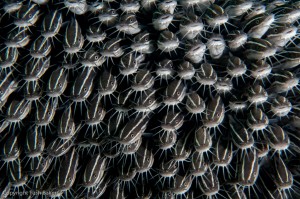 Block busting frame filler. Eyes, stripes & whiskers. A common subject & composition but orchestrated very well. Good depth of field & even lighting allowing amazing eye contact from most if not all the catfish. Impressive!! – Just take a minute to look at each individual fish! A similar (not as good as) picture by David Doubilet recently garnered over 500,000 'likes' on the Nat Geo Instagram feed. This was my favourite macro shot and & my favourite shot of the competition. A deserved winner.
2nd Place: Blue Spotted Ray by Mario Vitalini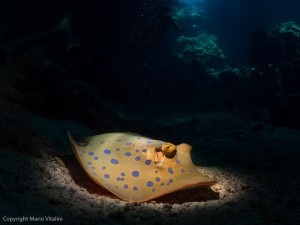 I loved the technique to 'spot-light' this beautiful blue-spotted stingray to really allow it to take centre stage. The distant blue gives real depth and atmosphere to the picture, although I found the background a little dark. This is a shot that shows real technique & patience to approach a potentially very skittish creature. In fact, its wing tip, upturned suggests it's just about to take flight. On deliberation, this was the best of the wide-angle shots and a very, very, very close runner-up.
3rd Place: Seahorse by Martyn Guess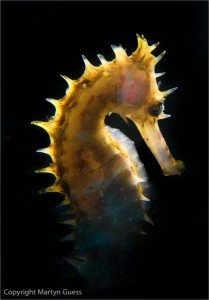 Back-lit thorny sea-horse. The snooted back-lighting shows off of this iconic critters shape & texture as well as its stunning yellow colour against a black background. Very clever technique to eliminate the messy substrate they normally reside in & allowing the subject too really 'pop' in the frame. This image is simple in appearance but graphically very strong with it being instantly recognisable, the only slight detraction is that it's turning ever so slightly away from the camera.
Highly Commended
Blue Shark by Jane Morgan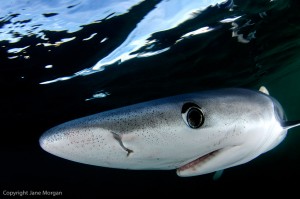 An intimate portrait of a Blue Shark showing great detail of its eye, teeth and ampullae of lorenzini. Lovely oily surface and a hint of green water complete the shot.
Commended
Ribbon Eel by Sue Guess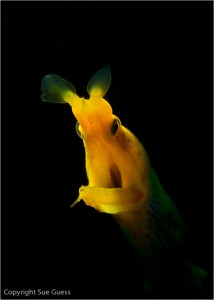 Snoot-lit Ribbon eel. This shows great technique to isolate this charismatic critter from it often very distracting background. Good focus & timing to catch the peak of the action moment with its mouth open.
Blue Shark by Martyn Guess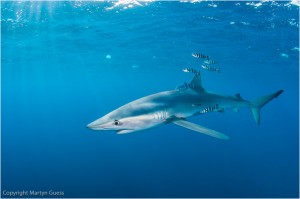 Blue sharks are one of my favourite subjects. This is obviously shot in sunnier climes than Cornwall due to the presence of pilot fish. These really add to the shot. I love the almost metallic sheen of the shark against beautiful blue water and the surface gives perspective and along with the position of the animal within the frame, makes the shot.
Giant Moray Eel by Mario Vitalini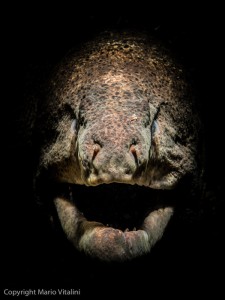 Superbly controlled, selective lighting on this head-on portrait of a moray eel really makes it appear as if it's jumping off the screen. Good eye contact and gnarly texture make this a very engaging, it not slightly terrifying portrait. I love the dark chasm of its mouth agape with a hint of its vicious teeth on show. The author has turned an everyday animal found on most red-sea dive sites into an interesting and dramatic character, suitable for any horror movie. Excellent.