Club members met on Saturday 17th November for the annual Open Competition. This final competition of the year pits blue water against green water, macro against wide angle. The evening was hosted at Martyn & Sue Guess's home and was attended by 20 club members and a couple of guests.
After the usual socialising and excellent food, 33 images from 11 members were projected. The winners had been pre-judged by Jason Gregory. Jason is a keen UK diver and underwater photographer. Unfortunately Jason could not attend but provided a set of notes which were read out at the meeting. Our thanks go to Jason for taking time to judge the competition and providing comments on all images, and to Sue and Martyn Guess for hosting the evening.
I received 33 very high-quality images – my goodness you have given me a tough task! Great to see lots of 'green water' images among the classic tropical subjects. As we all know very well, there really is no accounting for taste – 'in the eye of the beholder' and all that. I have a bias towards how difficult I think the image was to take, and, as a diver most interested in UK locations, I also favour images that are, or appear to be from the UK or other temperate seas.

All of the images are very good quality which gave me a very difficult task choosing 'winners'. In my final choosing I selected on the basis of the overall visual impact of the images. I have chosen 'best 5' and provided comments on all images.

Many thanks for asking me to judge this competition. I thoroughly enjoyed viewing the images and offering comments. Unfortunately, its unlikely I will be able to deliver my thoughts personally. Please give my apologies.
The winning images are as follows with judges comments in italics:
1st Place: Frogfish in wide-angle landscape by Cat Briggs
Amazing lighting, the whole complicated scene is perfectly illuminated with the ambient light from the surface also perfectly captured. The shape of the sponges seems to form a shape that ties in with the structure above, and in turn provides a stage for the frogfish. Amazing content, colour, textures and forms, even small fishes arcing around the top of the frame get in to the scene. A treasure trove of a subject and photographed to the level of expertise it deserves.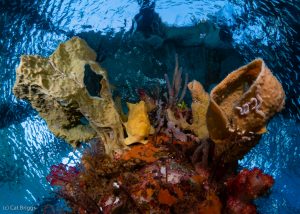 2nd Place: Shrimp and Nudibranch by Martyn Guess
Snooting out (or by other means) the background may not be to everyone's taste, but the result here is a stage spotlight on to a pair of creatures in almost theatrical garb, and both facing the crowd. It's a stunning tropical two-for-one.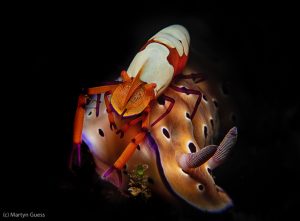 3rd Place: Scorpionfish by Jo Horrocks
Apart from a clear diagonal, this serendipitous encounter obeys no compositional rules. But, the confident hang-out of the golden scorpion fish results in a treat of colour and expression. We see natural colours and pin-sharp focus on the eye. Even the decaying weed supports dots of tiny mollusc interest. A moment well spotted and preserved.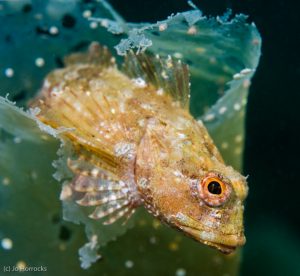 Highly Commended
Hydroid and Amphipod by Rob White
A fascinating look into the hidden world of marine life at the super-macro level. What I assume to be a solitary hydroid, that has tiny, almost hidden, amphipod passengers. Photographic skill and marine life knowledge coming together to create a beautiful image that contains and reveals unexpected secrets.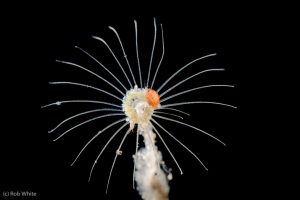 Tube Worm by Georgette Douwma
Dainty dandelion fluffy swirls, pink forms with cyan & mint ambiance and an eye-catching vortex centre. Those familiar with these animals know how easily disturbed and lost from view. Delightful abstract prettiness.