25 club members attended the 2018 Photosub Club BBQ hosted by Keith & Jo at their home in Cranleigh, Surrey. In addition to the BBQ and socialising, the evening also included the results of the 2018 Photosub Splash-in.
Images are eligible any time in July and could be taken anywhere in the UK or Ireland. This allowed for more members to participate and help get around the usual issue of the British weather preventing diving. There was a good turn out with 31 images submitted by 11 members.
In keeping with tradition we were joined by Penny & Spike Piddock. Penny Piddock (DPAGB EFIAP) is the Chair of Dorchester Camera Club and a non-diving member of BSOUP, as well as a Western Counties Photographic Federation approved Judge. Penny lives in Weymouth within sight of the sea and has always been interested in the marine environment from rock pools to the deep ocean. Her photographic interest covers most genres but Penny a particular interest in Nature and People. Penny judged the images in advance and provided her picks prior to the meeting so that a final results presentation could be prepared.
Penny's provided a view as how she judges images …
As with any competition for art subjects as much as the judge tries to be objective there is always going to be an element of subjectivity & a reluctance to give all the awards to equally good very similar images. This is always a problem where a group of people take photos in similar conditions of the same subjects. I have looked for pictures with good technical content but most important is the sense of originality & pictorialism. The photographer should put something of themselves into the image & present it well.
If they can show me something different & make me want to look at it several times I think it probably works as an image for others. We all think our own are good, otherwise we wouldn't bother to submit them but we are seeing them from our own experience of the occasion & the memories that go with them.
I like to look at them all fairly quickly in the first instance then think of the ones that are so memorable I can still see them in my mind's eye. Having the images in advance makes this possible and also the opportunity to look with a more critical eye after a day or two.
All the submitted pictures have something to commend them but I have to make choices and rate one against another. Only one person ever agrees 100% with the judge and he or she may well disagree with the comments.
I know it is not good form to tinker with another person's image unless requested to do so but for some of these I think showing you is probably better than words. I hope you don't mind. It is only my opinion and please feel free to ignore it & go with your own preferences.
There is very little difference between my chosen images in fact it was difficult enough to choose a short list. My top three stood out to me from the first viewing. Well done to the awarded images & hard luck to those who have missed out this time. I have followed a practice I use with competitions where I am not limited to 123 & a couple of Highly Commended and given Highly Commended to all my 'held back' pictures to give due credit to the photographers.
Following a welcome from Chairperson Martyn Guess, the images were projected. This year we tried projecting the images outdoors which was highly successful rather than members have to cram into a room. The projection was followed by results announced in reverse order, including a number of Highly Commended images.
So to the results:
1st place Lundy seal taken by Keith Lyall
2nd place Jellyfish and sunburst taken at Lundy, by Nick Blake
3rd place Smoothhound taken by Cat Briggs
Congratulations to the winners and thanks all that participated. Images are below …
Thanks go to:
Keith and Jo for hosting the event.
Penny Piddock for judging the competition.
All participants in the competition.
Gill, Bert, Sue and Wendy for providing desserts.
Rob and Pash for a great job washing up and drying.
Photosub committee members for their various roles in organising the evening
Winning Images
Included are narrative comments from Penny for placed images.
1st Place – Keith Lyall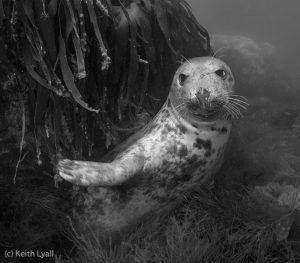 Another delightful seal in its environment. Good use of mono & the seal trainer has worked his or her magic again with the apparent farewell wave to the viewer. Very sympathetic processing and excellent camera work. For me among so many excellent shots this one ticked all the boxes with a strong narrative and pictorialism combined with photographic excellence.
2nd Place – Nick Blake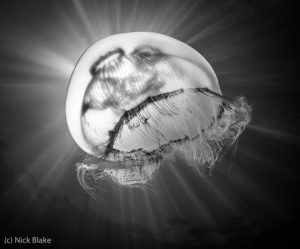 Graphic shot with a super pictorial quality. I particularly enjoyed the composition and the way it fills the frame with no background distractions with the backlit tendrils. There is a black line around the body that defines it. Can anyone else see the face of Shakespeare peeping through from the back? It was a good choice to use it as to mono shot making thus enhancing the graphic quality.
3rd Place – Cat Briggs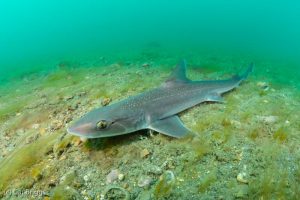 I'm prepared to be corrected but this looks to me like a smooth-hound and is a very fine example that could be used to illustrate the fish. Perfectly situated in the frame perfectly exposed and composed so we are drawn towards the eye. Good use of wide angle. Colour looks just right. The fore-ground definition to show a bit of scale and fading off in the background is well controlled..
Nothing to distract from the fish in its location.
Highly Commended (in no particular order)
Daniel Taylor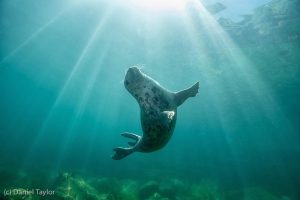 Poser. Does the photographer give them lessons in posing? The framing by the ray sets it off perfectly against the background. The backlit whiskers shows them up well and the colour is good. Camera craft and subject knowledge very evident.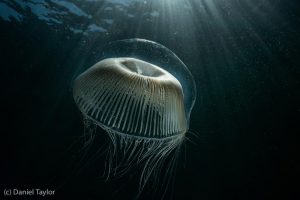 Jelly with a strong pictorial effect. The almost mono image has a translucence about it is very attractive against the dark background with the rays gently setting it off. Good use of light.
Peter Ladell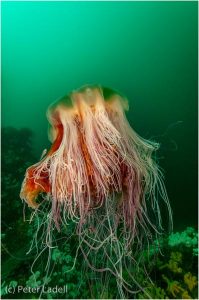 This Lion's Mane jelly is a very fine specimen. That small fish is living very dangerously and I think although small it does add to the image particularly as it is against the plain background. The photographer has chosen the exposure well and the use of the white key line shows it has been a considered composition. I like the way the light is coming in from the top left. Excellent detail.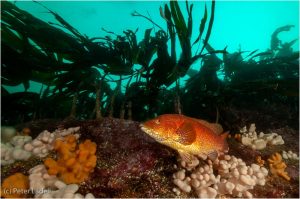 Beautiful colours on the Ballan Wrasse resting on the Dead Mans Fingers show the environment well. I like the position you have chosen so we can also see the holdfasts of the kelp.
Martyn Guess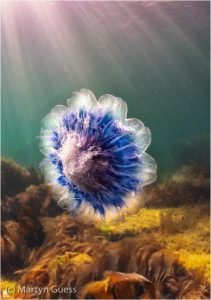 Another photographer with a good eye for a pictorial image. Good colour combinations and rays set it off well and composition is perfect.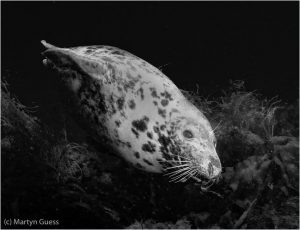 Another lovely mono showing the effect of having a lighter subject against a dark background. This is a successful image with a strong centre of interest and a good feeling of movement. There is no doubt what we are expected to look at but at the same time we have enough detail in the background to show the environment.
Nick Blake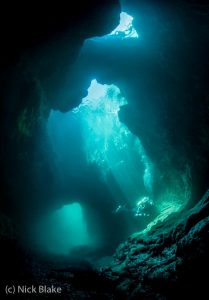 The sense of scale is what drew me to this one, The cave/canyon looks huge. The rays lighting the diver are important. The natural framing by the cave walls & the recession of shades through the cave adds interest.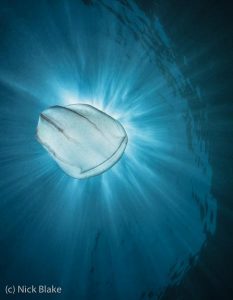 Looks like a back-lit echinoderm bobbing along & in this case very pictorial image with a graphic shape very well observed and produced. Whatever it is what I am judging is the finished product, which I like for its simplicity.
Gill Marsh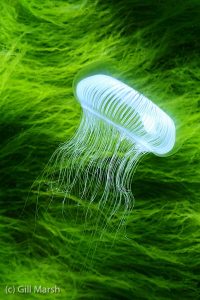 It is a super graphic shot very different from the mono earlier but with an equally strong sense of pictorialism. The green & white work well together unnatural but in this instance appropriate for the artistic interpretation.
Jo Horrocks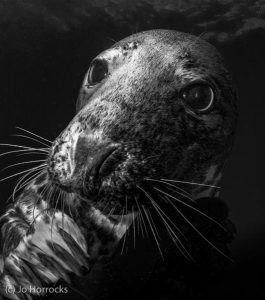 A striking Mono portrait as a change from the more pictorial images. A pleasing composition and good eye contact. The whiskers are in the perfect place and you get the feeling it is going to reach out & touch you. Lovely shot.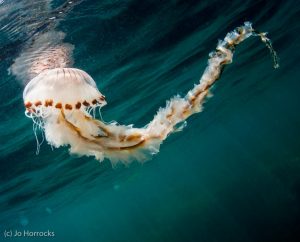 This compass Jelly looks as if it is intent on capturing prey with all the fringing showing. The radial pattern of brown markings and the shape it forms is very attractive. For this image I don't think it is important to have a straight surface line. The angle is a valuable for the composition.